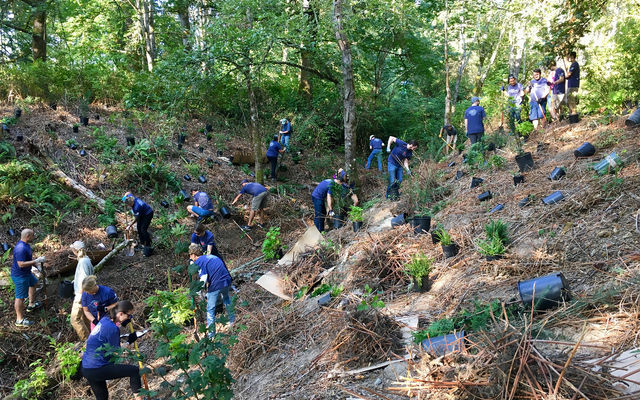 Nature lovers rejoice! Bellevue has nearly 80 parks and 2,800 acres of open space that benefit greatly from extra care that supports healthy forests and outdoor recreation. 
After being on hold for two years during the pandemic, Bellevue Parks & Community Services once again invites individuals and groups to participate in Eco Friday and Stewardship Saturday volunteer projects at parks throughout the city.
Natural Resources crews maintain Bellevue's 2,000 acres of forests and natural areas, along with 92 miles of multi-use trails, but community stewardship is invaluable. Individuals, high school students, families, religious and faith-based organizations, clubs, and businesses are encouraged to make a difference in our community. Volunteers will plant trees and shrubs, renovate hiking trails and remove noxious weeds from park forests. 
In addition to helping to ensure the health and beauty of Bellevue's forests, parks and trails, volunteers learn about local natural resources and get exercise while enjoying the outdoors.
Details are available at Eco Fridays and Stewardship Saturdays. For questions, please email Parks_Stewardship@bellevuewa.gov or call 425-452-4195.