Published November 2 2020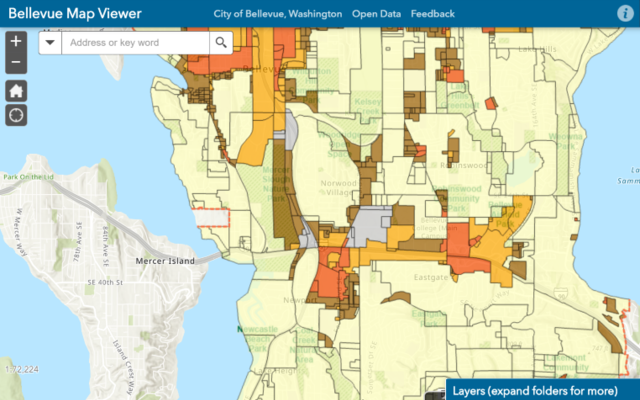 Members of the public can now more easily explore a variety of online map data in Bellevue including parks and trails, capital projects, utilities infrastructure and even locations for COVID-19 resources. 
The city's Information Technology department recently launched a new mapping application on the city's website called the Bellevue Map Viewer, designed to provide a layered, one-stop-shop map function to view any number of city features and resources independently or together on one digital map of the city. The mapping application also has tools for tasks such as creating a printable PDF map, doing measurements or adding mark-ups.
 
The Bellevue Map Viewer is designed to offer the public a self-service resource to discover map-related data pertaining to city amenities, services and projects. It also will be used to help illustrate certain topics and concepts in city communications. 
The map can be configured to load with a pre-defined set of map layers visible, in order to help residents quickly find relevant information. Here are a few examples, some of which have never been available to the public before:
More data and uses for the Bellevue Map Viewer will be added over time. As additional uses are added, links will be provided directly from project pages for pertinent mapping information.
The Bellevue Map Viewer application contains additional information on how to use the application, which can be found in the 'Information' menu item at the top of the map viewer (a circle containing a lowercase 'i' as shown in the map to the right.) 
Any questions or feedback can be directed to gisinfo@bellevuewa.gov or by using the 'Feedback' menu item in the map viewer.