Published October 30 2019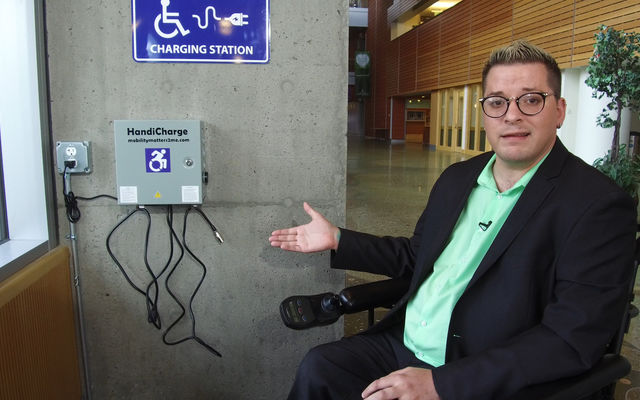 Six locations offer convenient and emergency access to power 
Bellevue is now the latest city to install power wheelchair charging stations in key locations throughout the community. The charging stations are specifically designed to connect to the charging ports on power wheelchairs and mobility scooters, giving users the ability to access nearby power if they are in the city and find their batteries running low. The connections are also intended to serve as a critical power resource during disaster events or widespread power outages. 
Blayne Amson is the ADA/Title VI Administrator for the city. As an accessibility advocate and powerchair user, he notes the potential of the charging stations to help power mobility device users in everyday situations. "If a powerchair user in Bellevue needs to work late or wants to have dinner or attend meetings in the evening, this technology gives them the freedom to do that at a moment's notice and further engage with the community," said Amson.  
Currently, the charging stations are available in City Hall, Crossroads Community Center, Highland Community Center, North Bellevue Community Center, South Bellevue Community Center and the Northwest Arts Center. Many of these locations are close to transit service and are known gathering centers for the community. Since community centers will be natural places for the public to go during an emergency or disaster, locating the charging stations there provides public access for any situation. Community centers are equipped with generators and will be able to provide energy stability even during a power outage. 
"The City of Bellevue celebrates and supports the contributions of all residents, so removing barriers to community engagement is an important part of our mission," said Mayor John Chelminiak. "Wheelchair charging stations promote community by making it a little easier to spend time out and about in our city and serving as a vital lifeline during power outages." 
The chargers include a 24-volt, 5-amp standard charger for wheelchairs and scooters. Users with specialty chairs should be able to use their own adapter cables to connect their device to the standard charging station cables. In addition, there is a separate USB port so users, and the general public, can charge their phone or tablet at the same time the station is charging a chair or scooter. 
The purchase of the charging stations was made possible in part by a grant for emergency operations, since the charging stations can serve as a critical power source during outages.