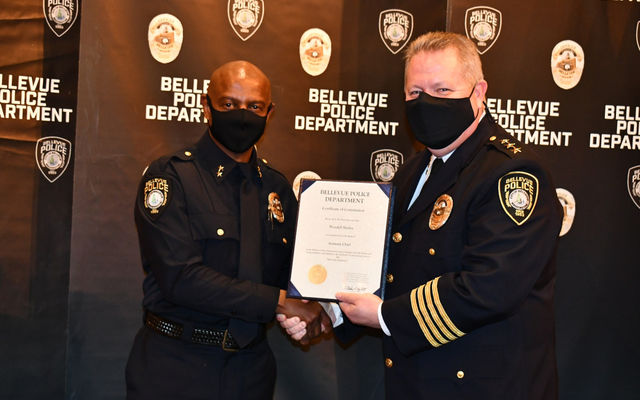 Wendell J. Shirley, a former long-time officer in the Santa Monica, California Police Department, was sworn in Monday, March 8, as an assistant police chief with Bellevue. Shirley had retired in 2019, but felt his success community-building in California could be of value here as he watched the national protests over social justice and police reform last year.
"I spent the bulk of my career helping build relationships between the police and the community," Shirley said the day he was sworn in. "I pride myself on my track record of developing relationships based on trust, honesty and mutual respect. There's certainly a lot of work to do, and I firmly believe my experience, training and passion will be valuable assets to Bellevue."
Shirley, who retired as a captain after 26 years with Santa Monica, says he chose Bellevue after researching the area and speaking with Police Chief Steve Mylett. "Bellevue is a beautiful city with an outstanding police department," Shirley said. "The chief's philosophy and the city's leadership all align with my values. I'm excited and humbled by this opportunity."
Chief Mylett said, "We had several highly qualified candidates for the assistant chief position. But it quickly became evident Chief Shirley had the experience and qualities that we were looking for." Chief Mylett noted the leadership roles Shirley embraced both in the police department and the community in California.
Specifically, one of Shirley's passions is working with and mentoring our youth. Born and raised by his grandparents in the Watts neighborhood of Los Angeles, he saw firsthand the challenges many young people and families face on a daily basis. Nevertheless, this taught him the value of hard work and education. Shirley hopes his story can inspire others to reach their highest potential, regardless of their circumstances.
Shirley fills a position left vacant when Carl Kleinknecht retired last year. He will oversee the Bellevue police Operations Division.