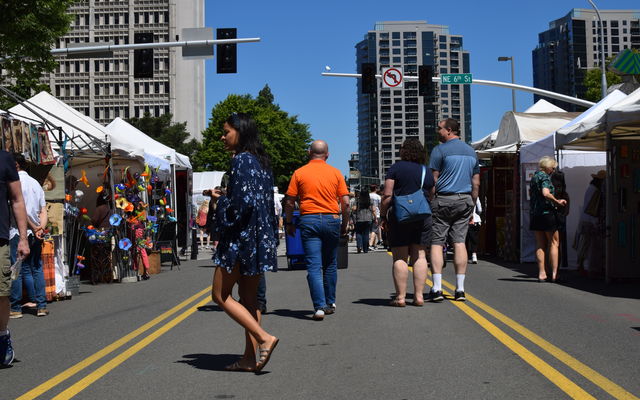 The city's annual arts and crafts showcase returns this year for a scaled back, in-person version after the 2020 event was skipped due to COVID-19 precautions. 
The Bellevue Downtown Arts Market, produced by the Bellevue Downtown Association and supported by Amazon and the City of Bellevue, will run over Labor Day weekend, starting Saturday, Sept. 4, and ending Monday, Sept. 6. Hours are 10 a.m.-7 p.m. Saturday and Sunday, and 10 a.m.-6 p.m. Monday. 
Located at 106th Avenue Northeast and Northeast Sixth Street, the arts market will feature work by more than 100 artists displaying jewelry, home décor, wood and glass objects, fabrics and other local artwork. Food trucks and live music will be on hand to feed body and soul. 
A pair of downtown streets will be closed or partially closed to vehicles, but downtown businesses will remain open and accessible. The street closures run from 4:30 p.m. Friday to 11 p.m. Monday.
106th Avenue Northeast will be closed in both directions, from Northeast Fourth Street to Northeast Eighth Street. 
Northeast Sixth Street (a one-way street in the eastbound direction) will be closed from 105th Avenue Northeast to 106th Avenue Northeast. 
Attendees are encouraged to walk, bike, take the bus or carpool to the arts market. The nearby Bellevue Transit Center at Northeast Sixth Street and 108th Avenue Northeast serves bus routes linking to cities throughout the region. Comprehensive information about travel options can be found at ChooseYourWayBellevue.org.
In past years, the Bellevue Downtown Arts Market was known as the 6th Street Arts Fair and took place in July in conjunction with other arts fairs. The Bellevue Arts Museum held a virtual arts fair in late July and early August this year instead of hosting an in-person event. A third fair, called the Bellevue Festival of the Arts, ended its 34-year run in 2019 due to the redevelopment of its location north of Northeast Eighth Street.