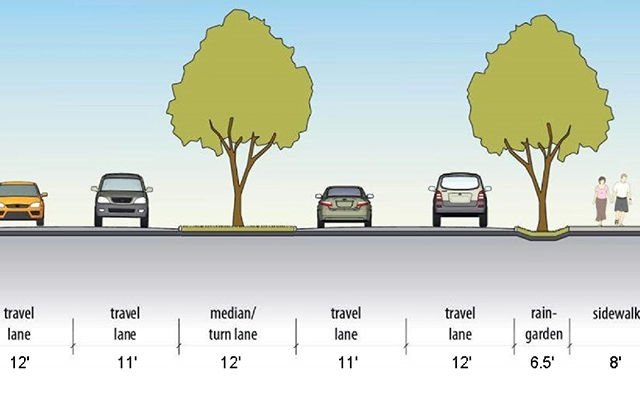 Prep work begins Aug. 5; full closure starts in September
The first phase of a long-anticipated project to widen 124th Avenue Northeast to accommodate growth in the BelRed area and allow future passage of the East Link light rail line will begin on Monday, Aug. 5.
The August work will include lane closures at times and is in preparation for the full closure of the busy north-south arterial. The full closure is needed while the contractor, Interwest Construction Inc., raises the roadway for a bridge that will allow light rail cars to pass beneath it. Other changes to the 124th Avenue corridor will include:
Widening to five lanes from Northeast Spring Boulevard to Ichigo Way (formerly called Northeast 18th Street);
Installation of new sidewalk and planters on the east side of the street and sidewalk on part of the west side; and
Addition of a new traffic signal at the intersection with the future Northeast 16th Street.
The closure of 124th Avenue, from Northeast 12th Street/Bel-Red Road to Northup Way, is expected to last from September until June 2020. During that time access to businesses will be maintained from each end of the closure. Detour routes will be on 120th, 130th and 132nd avenues; the truck detour will be on 120th Avenue Northeast. 
People traveling near the work zone are asked to do so safely, obey signs and follow the direction of flaggers. 
Following the full closure, there will be single-lane closures through the end of 2020 while the contractor completes work on retaining walls, stormwater facilities, landscaping, paving, street lights and other tasks. The estimated cost of the project is $33 million, and the construction schedule is subject to change.