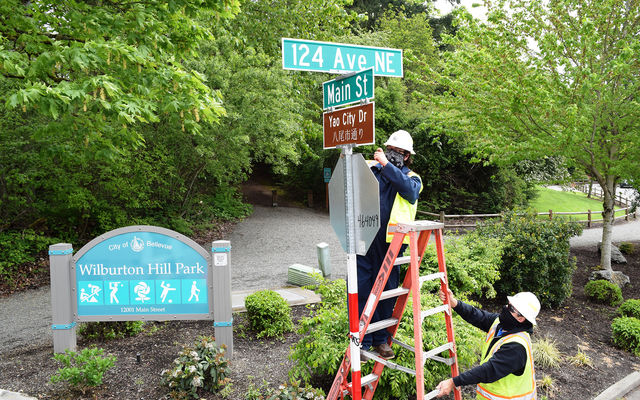 New honorary street signs unveiled Tuesday on Main Street, near the Bellevue Botanical Garden, pay tribute to Bellevue's longest-running sister city relationship – at 52 years – with Yao, Japan. 
The unveiling comes a few weeks after Yao officials sent Mayor Lynne Robinson a photo of a corresponding sign that honors Bellevue. The Yao signs are near the Yao Garden section of the Botanical Garden, where a Japanese maple tree was dedicated in 2019, during a visit from Yao's mayor and other officials.
The two signs on Main Street, the first such markers in the city, are at the corners of 124th and 118th avenues.
Bellevue's relationship with Yao dates to 1969, when a delegation from Japan visited Bellevue for the formal signing of a proclamation. In 1970, Bellevue residents formed an International Cooperation Committee, which later became the Bellevue Sister Cities Association. 
In 2019, the two cities marked the 50th anniversary of their relationship with a visit by a delegation of elected officials from Yao; it included a reception and a gift exchange.  
Bellevue's other sister cities are Hualien, Taiwan; Liepaja, Latvia; and Kladno, Czech Republic.