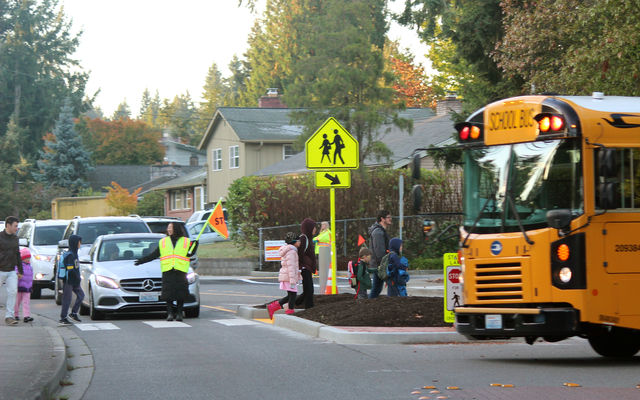 After skipping 2020 due to students learning remotely, Walk to School Day returns to Bellevue on Wednesday, Oct. 6, with a record 16 schools participating, including three middle schools. The event encourages safe walking, healthier students and connected neighborhoods.
Walk to School Day has grown steadily in Bellevue since it was introduced in 2002. This year, elementary school students, parents and teachers will participate at Ardmore, Bennett, Cherry Crest, Clyde Hill, Enatai, Medina, Newport Heights, Phantom Lake, Puesta Del Sol, Somerset, Spiritridge, Wilburton and Woodridge. The middle schools are Big Picture, Tillicum and Tyee. 
To get more information check the Walk to School Day webpage, or contact Stela Nikolova (425-452-2851 or snikolova@bellevuewa.gov). This year's walk is coordinated by Bellevue SchoolPool, a collaboration between Bellevue, King County Metro and the Bellevue School District. 
An important purpose of Walk to School Day is to promote walking as an active, safe and healthy way to get around. Other benefits include decreased congestion around schools and lower rates of tardiness.