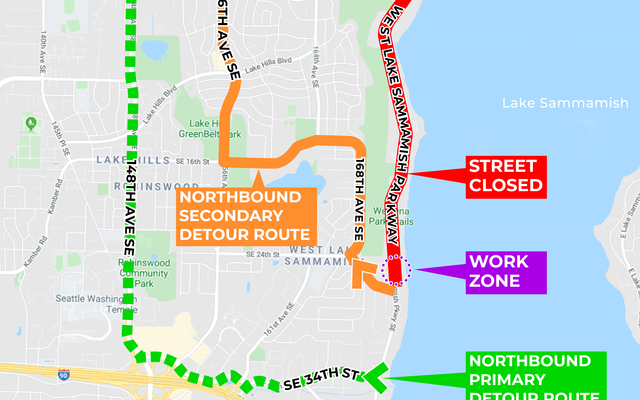 Detour Jan. 27-31; plan ahead and expect delays
Starting Monday, Jan. 27, possibly extending to Friday, Jan. 31, a section of West Lake Sammamish Parkway, between Northup Way and Southeast 26th Street, will be closed to through traffic between 6 a.m. and 5 p.m. 
During the closure, the Utilities Department will make an emergency replacement of a failed stormwater pipe on the 2400 block of West Lake Sammamish Parkway. The urgent need for the work was discovered during last month's heavy rains. 
Closure of all lanes is necessary to ensure safe access to multiple utilities and accommodate the large equipment and materials needed to excavate and restore the site. Closing the road also maintains a safe environment for workers and residents, and allows crews to complete the work quickly, reducing long-term disruptions. 
Local access will be maintained for residents and businesses only. Access restrictions will be strongly enforced. Flaggers will maintain access for bicycles, pedestrians and emergency services. To limit local neighborhood disruption, through traffic will be primarily detoured to 148th Avenue Northeast (map). 
More information about the project is available at BellevueWA.gov/wlsp-storm-repair. Technical questions can be directed to Clint Emry, senior construction inspector, (cemry@bellevuewa.gov or 425-429-1626).
Published on 01/23/2020