Published February 4 2019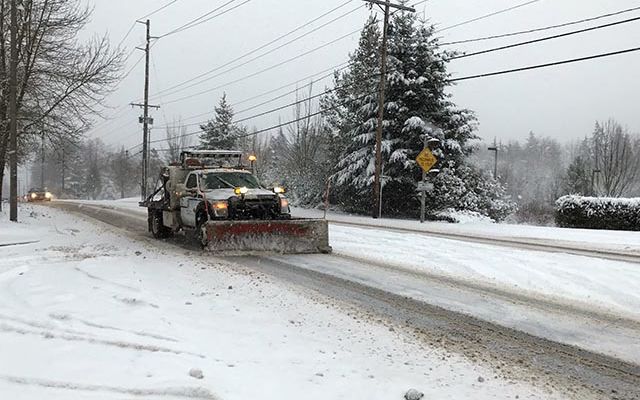 Feb. 6 Update - Working around the clock, with sunshine on their side Tuesday, Transportation crews were able to plow, sand and de-ice all arterials and move on to residential streets.

Sub-freezing temperatures overnight mean the commute Wednesday morning won't be perfect, but getting around town should be considerably easier than it's been so far this week. With the mercury forecast to hit 37 degrees Wednesday, many city facilities impacted by the snow should be open again.

Feb. 5 Update - With temperatures staying below freezing Monday night and Tuesday morning, snow remains, with considerable ice on side streets and sidewalks too. Please be cautious and give yourself plenty of extra time when traveling.
City street crews are continuing to plow, sand and de-ice based on the response priority map.

All Metro service is operating on designated snow routes.

City Hall is open, but some park facilities are closed, including the Aquatic Center and Crossroads Community Center. Call ahead if you're planning to go to a park facility.

Meetings for the Human Services Commission, Arts Commission and East Bellevue Community Council scheduled for Tuesday have been cancelled. Wednesday's Cultural Conversations evening event has also been cancelled.

The Bellevue School District and Bellevue College are closed.

Tomorrow's (Feb. 6) Cultural Conversations event at City Hall has been postponed. A new date will be announced in the coming weeks.
Feb. 4 - If you don't have to travel, staying home is a good choice. Snow fell on Bellevue Sunday night and early Monday; 2-3 inches in lower elevations and 6-8 inches in the hills.
Crews were plowing arterial streets Monday as top priority. Please do not tailgate snow plows; leave plenty of following distance. Report roadway hazards to Operations and Maintenance at 425-452-7840. Please be careful and be patient.
All Bellevue public schools are closed Monday, but City Hall is open. Mini-City Hall is also open. Development Services, including the permit center, is open with limited staff. Inspectors are available for sites that can be safely accessed.
Most park facilities, including the community centers and aquatic center, are closed. The North Bellevue Community Center was open 12:30-3:30 p.m. Monday's City Council meeting has been cancelled.
There is no solid waste collection service in Bellevue Monday due to inclement weather conditions. Affected customers are in Eastgate, Vasa Park and parts of Lake Hills. Those customers are advised to set out twice the amount of materials next week for collection at no additional charge.
Some icy weather tips:
Be prepared: Information is available at Emergency Preparedness. Preparedness tips are also available at Take Winter by Storm.

To report a power outage, please call Puget Sound Energy at 1-888-225-5773; you can also report it online and check PSE's outage map;

Clear sidewalks: While city crews plow and sanding streets, property owners are responsible for clearing sidewalks adjacent to their home or business.

When driving, if the power is out and traffic signals are not working, treat the intersection as a four-way stop.
For emergency information and tips, please check Extreme Weather Response and the city's Twitter page.
The National Weather Service has additional information.