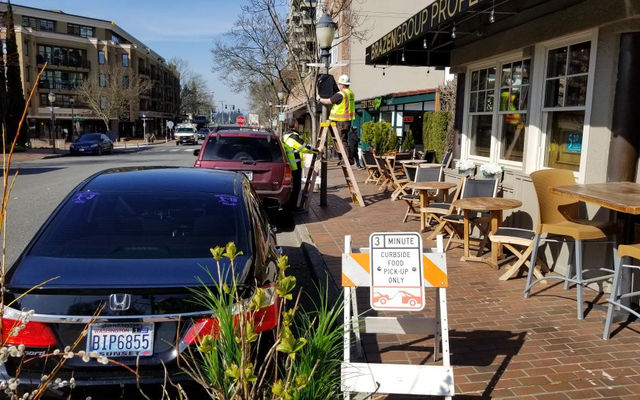 Also, fire stations closed to public, council meeting canceled 
The Bellevue Transportation Department Thursday implemented temporary parking measures designed to help restaurants and their customers during the business closures caused by the COVID-19 pandemic. New signs placed in front of dining establishments allow customers to park for three minutes while they pick up orders to go.
Bellevue restaurant owners or managers can request three-minute parking near their establishment by contacting the Transportation Department at 425-452-6856 or trreception@bellevuewa.gov. 
So far, four temporary parking zones – officially called Curbside Food Pickup Zones – have been installed downtown: three on Main Street in Old Bellevue and one on 108th Avenue Northeast, near Northeast 10th Street. 
Curbside Food Pickup Zones are considered in locations where there is legal parking near the front door of a restaurant and for restaurants that don't have convenient surface or garage parking lots that can be used for food pickup services. The availability of parking for other activities on a block is also taken into consideration when siting these zones.
The changes help restaurants that can't take dine-in customers better serve their take-out customers and improve social distancing. Take-out, delivery and food truck sales are still allowed after Gov. Jay Inslee on March 16 ordered restaurants, bars, entertainment and recreational businesses statewide to close. The new zones are expected to remain for as long as the order is in place. 
Also, as part of the city's continued effort to stem the spread of COVID-19, Bellevue fire stations were closed Thursday to visitors and programs until further notice. Fire stations remain open for emergency access and emergency response operations.
The City Council meeting for Monday, March 23, was also canceled. The next regularly scheduled council meeting is April 6. 
The city continues to update and share pertinent COVID-19 information on its main COVID-19 web page, a Business Resources page and a Community Resources page.