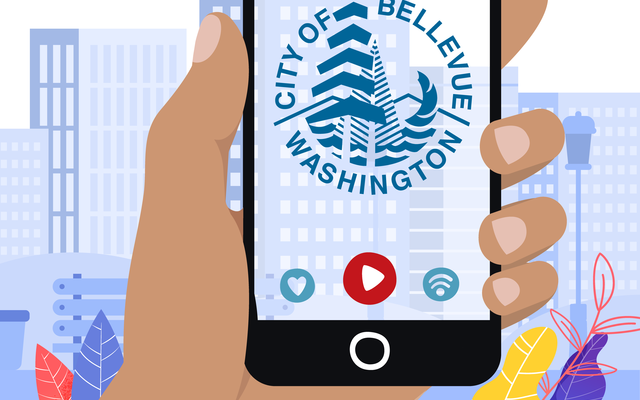 Spring into summer with Great Bellevue Scavenger Hunt May 28-June 20
Back by popular demand, the Great Bellevue Scavenger Hunt returns to give Bellevue enthusiasts a chance to spring into summer with fun throughout the city. Join the "Spring into Summer" edition to compete with your friends, family and neighbors in fun challenges from Memorial Day weekend until the first day of summer on June 20.
 
The scavenger hunt is a virtual game played on a mobile device using the free Goose Chase app. A shareable flyer has more details and a QR code to download the app. The game gives families and friends a safe and fun way to explore in and around homes, neighborhoods and the city of Bellevue by completing challenges to earn points and stack up against other teams. Participants will also get a chance to win prizes. 
Participants can download the free app and register for the game now. Once you download the app, you'll receive a notification when the game officially begins with the first challenge on May 28 at 8 a.m. The game ends June 20 at 10 p.m. Players can join the game and catch up on prior-released challenges at any time during the game period.
Teams earn points by answering trivia questions or taking pictures or videos in order to complete challenges. Challenges will vary but may include exploring local parks, getting savvy with spring cleaning at home, showing off your neighborhood, saving the planet with eco challenges, sharing old memories of Bellevue, or even completing activities with your pets! 
Here's what last year's players said about the experience: 
"My family and I had such a fun time with the challenges and actually learned quite a few new tips and places around Bellevue." 

"We had a lot of fun and it was a nice distraction from all the craziness of life lately."

"We used the scavenger hunt as a way to foster greater community in the neighborhood. It was a fun way to bring people together"

"The kids had fun doing some of the "work" and sleuthing. It was so fun."
To participate: 
Download the free GooseChase app from any app store on your mobile device or by clicking the download link from the game's informational flyer.
Create an account or log in as a guest. Only one account is needed per team. 
Enter the game code BELLPLAY or search for "Spring into Summer: Great Bellevue Scavenger Hunt Returns" using the app's search bar. 
Select or create your team. Teams can have a single member or multiple people.
Once in the app, you will agree to a safety waiver and photo release to participate in the game.
All the activities can be accomplished safely within the Healthy Washington – Roadmap to Recovery Plan. Good luck, scavenger hunters and have fun!