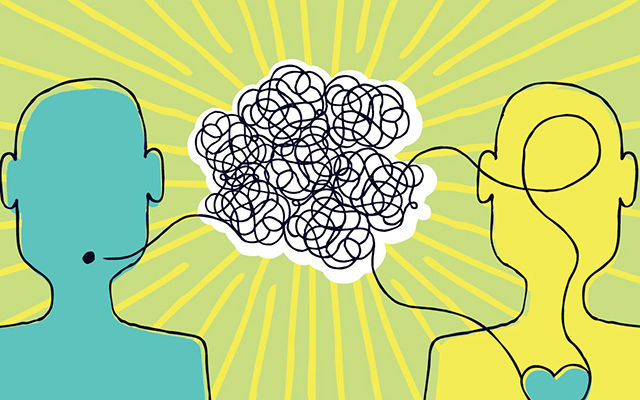 Being a better listener can improve people's focus, relationships and professional lives. The Bellevue Conflict Resolution Center is ready to help, offering "Art of Listening" workshops this winter and spring. 
In Art of Listening, "you will learn how to be a more artful, peaceful and attentive listener, and have the experience of being truly listened to," said Marci McReynolds, manager of the Conflict Resolution Center and facilitator for the workshop. 
"The class is definitely mind-blowing, if not life-changing," reported one participant in the workshop last year. "The skill set equips us to better manage our relationships, and now we can help other people in a very effective way."
Art of Listening is presented over three two-hour sessions at the Bellevue Library, 1111 110th Ave. NE, 6:30-8:30 p.m., on Feb. 3, 10 and 24. 
In addition, people who have already taken Art of Listening or consider themselves good listeners already can benefit from Advanced Art of Listening. The class is designed to help people further improve their listening skills, particularly in challenging situations such as when there is anger or when receiving difficult feedback. The advanced class is on Feb. 20 and 27, also 6:30-8:30 p.m. at the Bellevue Library.
Both workshops are cosponsored with the King County Library System. Registration is  recommended. Please contact BCRC@bellevuewa.gov or 425-452-4091.
Art of Listening will also be available in evening sessions at Lake Hills Library on April 15, 22 and 29. The advanced class will also be offered in evening classes at the Newport Way Library on May 5 and 12.
If all these workshops aren't enough, the Conflict Resolution Center also offers one-night listening salons on the following dates:
Jan. 27, 6:30-8:30, Lake Hills Library
March 5, 6:30-8:30, Lake Hills Library
March 25, 6;30-8:30, Newport Way Library
April 28, 6:30-8:30, Lake Hills Library 
May 28, 6:30-8:30, Bellevue Library
Published on 01/17/2020