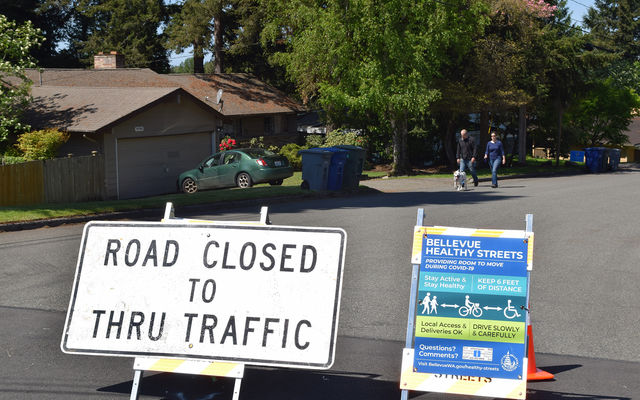 A pilot project that gives people more room to safely walk and bicycle while physical distancing during the COVID-19 crisis – by temporarily closing streets to non-local vehicle traffic – is expanding starting Friday, June 5.
After generating positive reviews since its launch in early May, the Bellevue Healthy Streets pilot will add new streets in Newport Hills and Northwest Bellevue, just west of downtown, and will extend one of the original Healthy Streets in east Bellevue.  
The expansion means a total of 4.1 miles of mostly residential streets will be temporarily closed to non-local vehicle traffic. Local access for residents, essential services and delivery vehicles will be maintained, as well as on-street parking. The four Healthy Streets locations are: 
Northeast Bellevue expansion: The initial closure in May was on 165th/166th Avenues Northeast, from Northup Way to Northeast Fourth Street (0.75 mile). The latest addition extends the closure from Northeast Fourth Street to Southeast 14th Street and into the Lake Hills and West Lake Sammamish neighborhoods. Mailer/map 
Lake Hills: The initial closure in May was on Southeast Fourth Street, from the Lake Hills Greenbelt to 164th Avenue Southeast (0.75 mile), and there is no change to the original configuration.  
Northwest Bellevue expansion: Northeast Fifth Street/98th Avenue Northeast/Northeast First Street, from close to Northeast Eighth Street to 100th Avenue Northeast. Mailer/map 
Newport Hills expansion: 121st/122nd/123rd Avenues Southeast, from Southeast 46th Place to Southeast 56th Street. The launch of the Healthy Street in Newport Hills will take place the week of June 8. Mailer/map
Feedback about Healthy Streets includes a non-scientific survey that generated 60 responses following initial implementation of the pilot in early May. Some 57% of respondents said they would like to see more Healthy Streets in Bellevue; 65% said they used the streets for walking.
Video cameras placed at key intersections the weekend before and the weekend after the Healthy Streets pilot was launched showed more people walking and bicycling. 
Along 166th Avenue Northeast the weekend after streets were closed to non-local traffic, pedestrian volume was 22% higher; bicycle volume was 167% higher; while vehicle volume dropped by 13%. Feedback from residents suggests the barricades and signs also helped slow car traffic on the street.