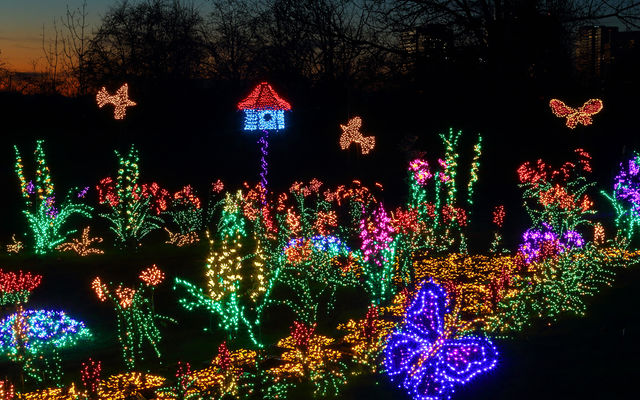 Garden d'Lights, one of Bellevue's signature events, opens on Saturday, Nov. 30, and will run nightly through Dec. 31, 4:30-9 p.m., including holidays.
Tickets are $5 for adults; children 10 and under are free, with space limited to 5,000 visitors per night. Tickets can be purchased in advance online. Tickets are also available for purchase at the entry.
Parking in the garden's lot is available for $5 per car (cash only), or free with a disability parking permit. Free parking is available at Wilburton Hill Park, east of the Botanical Garden.
Approximately 130 volunteers donate 6,400 hours over an 11-month period to create an array of botanically correct plants, animals and natural features – including poinsettias, a fire breathing dragon and waterfalls – using incandescent and energy-saving LED lights, zip ties and rebar. New features this year include a snail, fairy door and stunning wisteria vines.
Last year, more than 80,000 visitors enjoyed the colored light show. 
Garden d'Lights started in 1994 as a way to entice visitors to the garden during the winter. The event is made possible through a partnership of the Parks & Community Services Department and the nonprofit Bellevue Botanical Garden Society.
Published on 11/27/2019