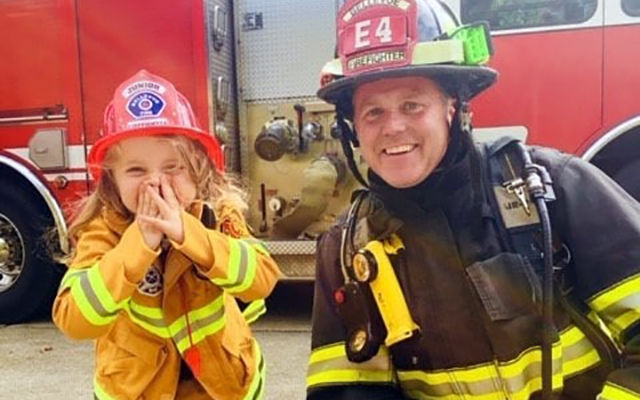 Stovetop fire displays, CPR instruction and more
In support of National Fire Prevention Week, the Bellevue Fire Department will host its annual open house on Saturday, Oct. 12, 10 a.m.-4 p.m. All nine fire stations will serve free cookies and other refreshments, and firefighters will give tours and answer questions.
Residents are invited to try firefighting activities. 
Learn hands-only CPR: Participants get to practice on a mannequin. Learn how to save a life in a matter of minutes.
Discharge a fire extinguisher: You've had that fire extinguisher. Learn how to use it. 
Try on firefighter bunker gear: Find out how it feels before firefighters go into a burning building. 
Draw a home escape plan for a chance to enter the "Ride to School in a Fire Engine" contest.
At stations 1, 2, 3, 8 and 9, there will be a stovetop fire display, where you can learn how to properly extinguish a kitchen fire involving real fuel and fire.  
Station One – 766 Bellevue Way SE (Downtown/West Bellevue)  
Station Two – 2802 148th Ave. SE (Eastgate/Lake Hills/W. Lake Sammamish)  
Station Three – 16100 NE Eighth St. (Crossroads/Northeast Bellevue)  
Station Four – 4216 Factoria Blvd. SE (Factoria/Somerset)  
Station Five – 9621 NE 24th St. (Northwest Bellevue)  
Station Six – 1850 132nd Ave. NE (Bridle Trails/Wilburton)  
Station Seven – 11900 SE Eighth St. (Wilburton/Woodridge)  
Station Eight – 5701 Lakemont Blvd. SE (Eastgate/Cougar Mountain)  
Station Nine – 12412 Newcastle Way (Newcastle/Newport Hills) 
No RSVP is required and all residents are invited. The Fire Department has more information, including public safety resources.
Published on 10/10/2019