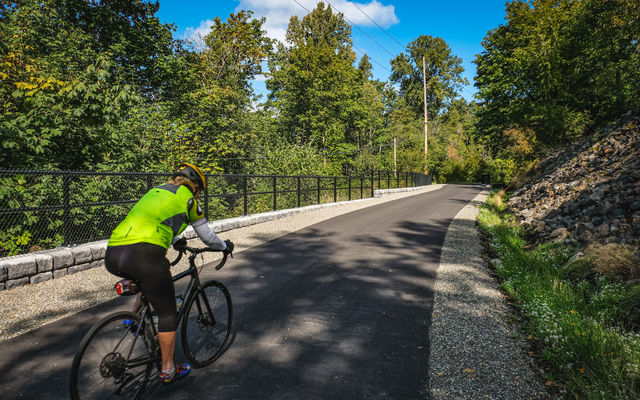 Plus, more progress on Environmental Stewardship Plan and new city leaders introduced 
On Monday, the City Council voted in favor of launching the work necessary to implement a future vision for the Wilburton neighborhood through amendments to the city's Comprehensive Plan and Land Use Code. 
In December 2015, the council adopted 12 guiding principles for re-envisioning and planning for the Wilburton-Grand Connection area and appointed a resident advisory committee in 2016 to help plan for the area's vision. The resident group completed the initial visioning work in 2018, which included an examination of the area in depth, evaluation of alternative future development concepts, and production of a preferred vision for land use, urban design and transportation to guide the implementation. The vision implementation will consider Bellevue's 2044 growth targets for housing and jobs. Commercial development activity, including office space, is on pace to exceed the targets originally set for 2035, while housing development is not keeping up with current demand and future needs. 
Three phases of work – stakeholder and community re-engagement, future land use and policy development, and Land Use Code amendments – for implementation of the Wilburton vision will take place in parallel with the Comprehensive Plan update expected to be completed in 2024.
According to resident advisory group's vision, Wilburton will develop as a livable, sustainable, equitable, mixed-use urban neighborhood that is essential for expanded housing capacity and choice. It is also expected to serve as a cultural and innovation hub, and will be walkable, accessible to four nearby light rail stations, and served by the Eastrail multi-use pathway, as well as the Grand Connection in the future. 
The council voted 6-1 (Councilmember Lee voting no) to initiate the launch and use the CAC preferred alternative as a baseline for the work. The full discussion is available on Bellevue Television replay and more details are in the meeting materials.
More progress on Environmental Stewardship Plan
In other business, councilmembers received a quarterly update on progress being made as part of the city's Environmental Stewardship Plan.
The city recently launched a community climate challenge in partnership with other Eastside cities and has exceeded the original goal for completing energy benchmarks for Bellevue buildings. In addition, the city has initiated a tree canopy assessment and is working with partners to implement a residential home energy efficiency program. 
Recent efforts focused on improving the sustainability of municipal operations included further progress toward a green fleet strategy for the light-duty vehicle fleet to be zero emissions by 2040, installation of six more electric vehicle charging ports at city facilities, lighting upgrades at fire stations, incorporating energy strategies into capital projects, pursuing additional grant funding and more. 
Of the 77 actions identified in the Environmental Stewardship Plan, 75% are either in process, completed or built into ongoing operations. The meeting presentation and more details on recent progress are available in the meeting materials.
New city leaders introduced
Also at the meeting, several new staff in the City Manager's Office and the Community Development Department were introduced to the council and the public. 
Diane Carlson started with the city earlier this month as a deputy city manager and Genesee Adkins joined as chief of external affairs, both in the City Manager's Office. Meanwhile, Michael Kattermann is the city's new Community Development director. Carlson and Kattermann are both returning to the city after stints in other jurisdictions in Washington at state and local levels. 
The meeting agenda memo contains full biographies for each.