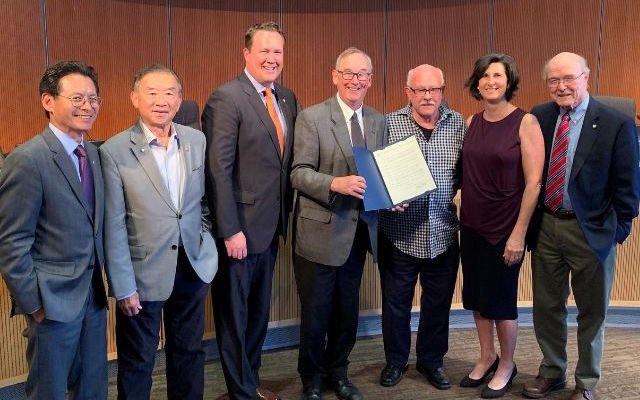 Plus, county parks levy, transportation contracts and McEachran recognized 
At Monday's study session, the City Council was briefed on the successful efforts of community partners Wallace Properties and Congregations for the Homeless (CFH) to raise private funds for improvements to the Lincoln Center shelter site. The tenant improvements will allow the building to support a temporary year-round overnight shelter. 
The CFH design team is working with city permit staff to comply with requirements for fire and life safety improvements. Once permits are issued, construction is expected to begin in late June. Completion is slated for November; just in time for the facility to re-open in winter. 
Future council discussions will take place on operational funding, land use and public engagement. A temporary "bridge" site, where individuals can go during construction, will likely be announced in the next couple of weeks. The process of siting a permanent men's facility is ongoing.
More information is available in the council agenda materials.  
County parks replacement levy
Later in the study session, Bob Burns, deputy director of King County Natural Resources and Parks, provided an update on the county's proposal for a six-year parks, trails and open space replacement levy for 2020-2025.
If approved, the measure would provide funding for county, town, city and park district parks. It also includes money for open space, trails, recreation, public pools, zoo operations and an aquarium capital project.
The property tax would begin in 2020 at 18.32 cents per $1,000 of assessed valuation.
A total of $50.5 million is allocated to Eastside Rail Corridor projects throughout the county. In Bellevue, this list includes:  
Trail connection to SR 520 Trail at Northup Way;
Northeast Eighth Street pedestrian bridge overcrossing;
Wilburton Trestle preservation and trail retrofit;
Gateway trailhead improvements at the north end of the Trestle in Wilburton; and
Interim connection to the I-90 Mountains to Sound Greenway Trail at 118th Avenue Southeast and Southeast 32nd Street.
In addition, $700,000 from the proposed levy's regional trails acquisition fund would help acquire property for the Mercer Slough Gateway at 118th Avenue Southeast.
The measure will appear on the Aug. 6 countywide primary ballot and a formal endorsement by the council will be discussed in the coming weeks. 
More details are available in the council materials. 
Transportation construction contracts awarded
Later, during the council's regular session, several contracts were awarded through a single vote on the consent calendar. The largest was a construction contract for $12.99 million to build the first phase of improvements on 124th Avenue Northeast, from Northeast Spring Boulevard to Ichigo Way. 
The upgrades are needed in the BelRed area to prepare for more intense development and completion of East Link light rail. Construction will require that 124th Avenue be closed in both directions, from Northeast 12th Street to Northup Way. The 24/7 closure will start late this summer and last approximately nine months. During the closure, access to local businesses will be maintained and a detour route will be in place. 
Also of note was approval of a $274,104 contract to remove a 50-year-old pedestrian bridge over Northeast 12th Street, between 108th and 110th avenues. The bridge has been closed since August 2018 after an inspection revealed extensive structural deterioration. The removal is anticipated to take place over two weekends in late July or August. 
More information is available in the council agenda materials. 
Human Services Commissioner commended
Later, the councilmembers commended Jim McEachran for his eight-year tenure on the Human Services Commission and longtime commitment to the community.
Mayor John Chelminiak praised McEachran for his work on the Affordable Housing Strategy Technical Advisory Group, which encouraged the city to respond boldly to the affordable housing crisis. The commendation also lauded him for his involvement on the Wilburton Citizen Advisory Committee, which helped develop a land use, urban design and transportation vision for the emerging urban neighborhood.
The commendation is available online.
 
Published on 06/21/2019