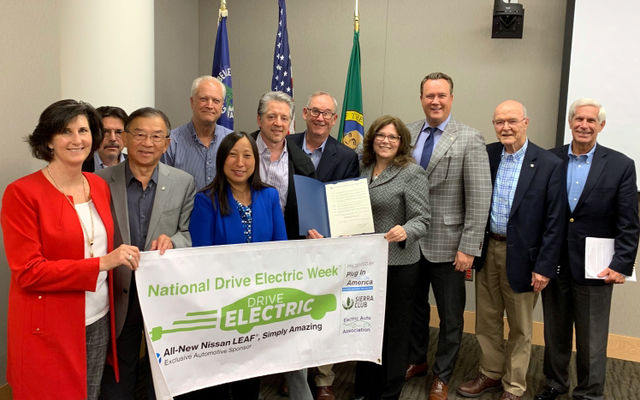 Plus, Drive Electric Week proclamation and Economic Development update
During a city council study session on Monday, councilmembers unanimously agreed to move forward with the process to update and amend Bellevue's Land Use Code (LUC) Chapter 20.30U. Chapter 20.30U LUC, along with an expiring 2006 Federal Consent Decree, regulates temporary encampments hosted by religious organizations on their property. Additional study session briefings and public engagement on this topic will occur through the end of the year to answer questions raised during the council's initial discussion Monday. The update will eliminate the need to refer to both the LUC and a Consent Decree for administration of temporary encampments. Public hearings on the matter will be held in the fall, with final council adoption occurring by the end of this year.
More information on the temporary encampment code amendment process is available on the temporary encampment page. 
Drive Electric Week
The city council also issued a proclamation recognizing National Drive Electric Week, happening Sept. 14-22. Bellevue has one of the highest electric vehicle ownership rates in the state and has invested in electric charging stations and electric vehicles for the city fleet. Councilmembers joined partner non-profit organization Plug In America, an electric vehicle technology advocacy group, to sign the proclamation.
Economic Development update
To close the meeting, Community Development staff reported their economic development activities in the second quarter to the council. The team visited 14 Bellevue companies to continue developing supportive relationships for business retention and growth. 
As part of the city's small business and entrepreneurship support initiatives, the Startup 425 Foundations learning series on how to build a business attracted 223 Bellevue registrants in the second quarter.
The team also reported they submitted an application to the state for a 5G Innovation Partnership Zone designation with several partner organizations including the University of Washington and T-Mobile. If the application is approved, it will be one of the first partnerships in the nation to support this innovative technology.
 
Published on 09/12/2019