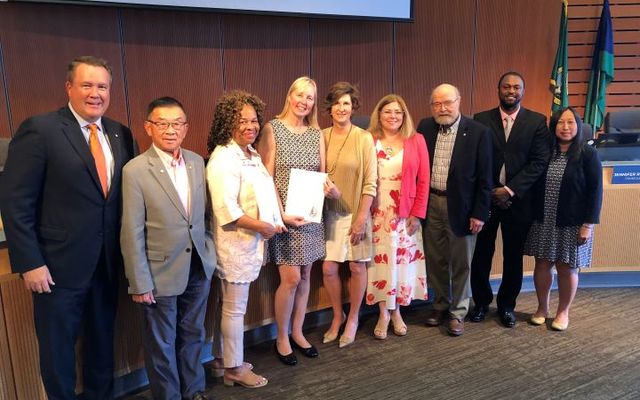 Plus, parks levy to be on November ballot and ADA, Muslim heritage celebrated
On Monday, the council adopted an ordinance amending the city's Land Use Code to establish regulations for permanent supportive housing, transitional housing, emergency housing and emergency shelter. The ordinance replaces an interim official control that was adopted to respond to changes in state law requiring cities to allow permanent supportive housing and transitional housing in all land use districts where residential or hotel/motel uses are allowed, and emergency housing and emergency shelter in all land use districts where hotels and motels are allowed. 
Councilmembers considered, but did not approve, amendments to the recommended ordinance that were proposed by Councilmembers Barksdale and Robertson. The final adoption of the ordinance passed on a vote of 4-3, with Deputy Mayor Nieuwenhuis and Councilmembers Lee and Robertson opposing. 
The full discussion and votes are available on video replay through Bellevue Television. More information on the process can be found on the Supportive and Emergency Housing Code Amendment web page. 
Parks levy to be on November ballot
In other business, councilmembers unanimously approved placing a voter proposition on the November General Election ballot to lift the regular property tax levy limit to fund future Bellevue parks capital improvements and maintenance and operations. 
Further details about the proposition are available at 2022 Parks and Open Space Levy. 
The council also approved members for pro/con committees who will write statements that appear in the voter's guide in favor of and in opposition to the ballot measure, alongside the explanatory statement prepared by the city attorney's office. Eleven community members volunteered for the work, with one person applying to represent the con committee and ten people applying to be on the pro committee. Each committee is limited to three people who may consult with additional people in preparing their statements. The council appointed Sherry Grindeland, Kevin Wallace and Jivana Aras for the pro committee and David Plummer for the con committee. 
The full council discussion is available through Bellevue Television's video replay and more details on the final ordinance are in the meeting materials.
ADA and Muslim heritage celebrated
To start the meeting, councilmembers read proclamations recognizing the 32nd anniversary of the Americans with Disabilities Act (ADA) on July 26 and Muslim American Heritage Month during July. 
Laura Couts with Puget Sound Personnel was on hand to accept the ADA proclamation (see photo.) Puget Sound Personnel works with the City of Bellevue to employ and support staff members with disabilities throughout the city's functional areas, as well as many other employers in the region.