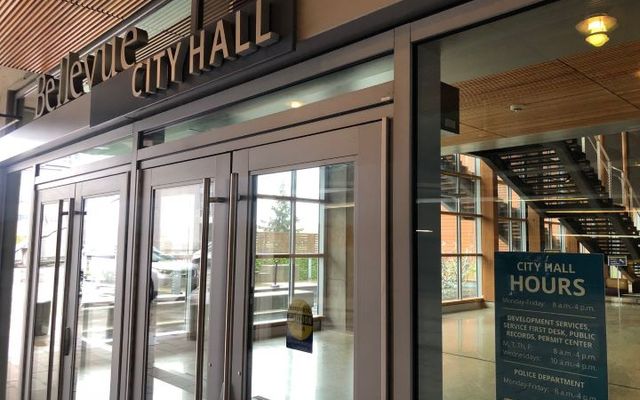 Plus, city service adaptations highlighted during Public Service Recognition Week 
On Monday, the City Council voted unanimously to send a letter on behalf of the city to the King County Council encouraging exploration of a range of options to reduce long-term impacts to ratepayers from the county's Clean Water Plan. This 40-year wastewater services plan outlines strategies and costs to address the future capacity, maintenance and operational needs of the regional wastewater treatment system. 
Bellevue and 33 other agencies contract with King County to provide regional wastewater treatment and conveyance. Those costs make up 55% of the city's sewer budget, so changes to the county's wastewater rates have a significant impact on sewer bills for Bellevue residents. 
The King County Executive recently released a proposal to raise wastewater rates by 5.75% in 2023 with annual rate increases at that level or higher through 2032. The projections for county sewer service fees show a typical residential customer in Bellevue who pays $49.27 per month for those regional services in 2022 would pay $100.33 per month in 2032. These costs exclude Bellevue Utilities' local costs to maintain, operate and improve the city sewer infrastructure as well as costs that will be needed to implement actions to comply with additional state and federal regulatory requirements. Those costs are unknown at this time. 
The county paused development of the Clean Water Plan last fall to consider concerns received about the direction of the plan. Representatives from the Wastewater Treatment Division were on hand at the council meeting to collect feedback from the city. After a discussion where councilmembers shared some of their ideas and concerns, the council voted to send a letter to the King County Council requesting cost-benefit information and alternative options to consider during development of the Clean Water Plan. The full presentation and council discussion are available through video replay on Bellevue Television with supporting information available in the meeting materials.
City service adaptations highlighted during Public Service Recognition Week 
After reading a proclamation declaring May 1-7 as Public Service Recognition Week and thanking all public servants for their work supporting the community, the council received an informational briefing on the city's approach to returning to full hours of operation after shut-downs and adaptations during the COVID-19 pandemic. 
After a complete building closure in March of 2020, Bellevue City Hall opened under limited hours in July 2021 and returned to regular hours April 4, 2022. Residents were able to receive services online and over the phone during the closures. Representatives from the city's neighborhood outreach, parks, council services and facilities teams reported to council how city teams are effectively delivering services and keeping some of the successful adaptations in service in this new environment. 
Highlights of the activities discussed included:
Hybrid city council meetings began April 18 and give residents the option to attend in person at City Hall or join and participate in live city meetings online. 
The public can again reserve conference rooms at city facilities and receive in-person services; certain safety measures remain in place including increased cleaning protocols and clear barriers between service staff and members of the public.
Parks programming has also returned to in-person services and continues to offer virtual and hybrid programming to provide more access for participants. 
Mini City Hall at Crossroads Mall is also now open to the public for drop-in services.
Other approaches used during the pandemic, such as information kiosks throughout the city to share critical information, will remain in place as a key communication tool for people in their neighborhoods. 
The full briefing is available through a meeting replay on Bellevue Television.