Published September 22 2022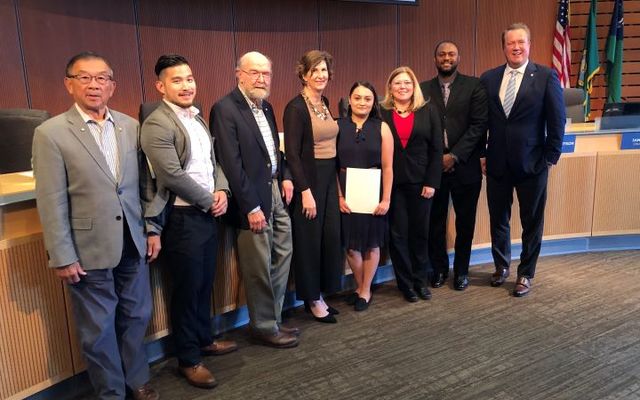 Plus, Human Services Commission appointment and proclamations for Hispanic heritage, Alzheimer's awareness and National Recovery Month 
On Monday, the Bellevue City Council received the latest quarterly report on the city's economic development efforts with a specific focus on strategies including tourism, workforce, and office market dynamics. 
The report updated the economic impact from the recent St. Jude Rock 'n' Roll half marathon event in Bellevue, which generated a final total of $4.8 million in direct spending by event participants. The event drew roughly 6,000 people from outside of our region and a total of 10,500 participants, pushing hotel occupancy over Labor Day weekend to twice its usual level. The city experienced a continued recovery of hotel occupancy levels through mid-June of this year, which was made up of mostly leisure travel since the business travel market has not yet returned to pre-pandemic levels. The city is continuing to work with partners on developing a Tourism Promotion Area to further aid this sector's recovery and future growth.
The city's workforce strategies are focusing on both offering immediate support to job seekers as well as supporting the long-term pipeline for workforce talent in Bellevue, with a continued focus on the large technology sector here, which employs roughly 50,000 people. In 2019, Bellevue had 5% of all software jobs in the U.S., and the city's economic development plan also includes strategies to broaden the area's employment to a more diverse set of technology sectors.
Companies are still adapting to changing office market dynamics and working to understand what the future landscape will look like. Currently about 45% of area workers are coming into office spaces at some point during the week. Employees are looking for more amenities and social spaces within business districts. Economic development strategies include maintaining a focus on mixed use areas that incorporate residential developments in business districts to reduce commutes and help businesses maintain a high level of foot traffic during the business day and into the evening hours.
The full report is available on Bellevue Television replay.
Human Services Commission appointment
In other business, Angela White was appointed to the Human Services Commission by unanimous vote. Council Liaison to the commission, Deputy Mayor Nieuwenhuis, submitted White for council consideration for the role. She will serve a partial term expiring May 31, 2023.
The Human Services Commission advises the council concerning human services planning and funding. The City Council appoints residents to boards, commissions and committees that provide detailed study and recommendations on important policy matters. More information on the city's boards and commissions is available on the Boards and Commissions web page.
Proclamations for Hispanic heritage, Alzheimer's awareness and National Recovery Month 
Councilmembers recognized three important topics with proclamations at the meeting: Hispanic Heritage Month, Alzheimer's Awareness Day and National Recovery Month. 
Mini City Hall staff member Oyuki Ornelas was on hand to accept the proclamation for National Hispanic Heritage Month, recognizing the contributions of those with Hispanic heritage to our neighborhoods, workplaces and communities. As the third largest demographic in Bellevue, Hispanic community members make up 7% of the city's population. 
Councilmember John Stokes read the Alzheimer's Awareness Day proclamation, noting that this disease affects millions of Americans and 120,000 people in Washington state, including the councilmember's wife who recently passed away.
The council also proclaimed September as National Recovery Month in Bellevue as they invited residents to join in recognizing, preventing and overcoming mental and substance abuse disorders through effective education and treatment and recovery strategies.