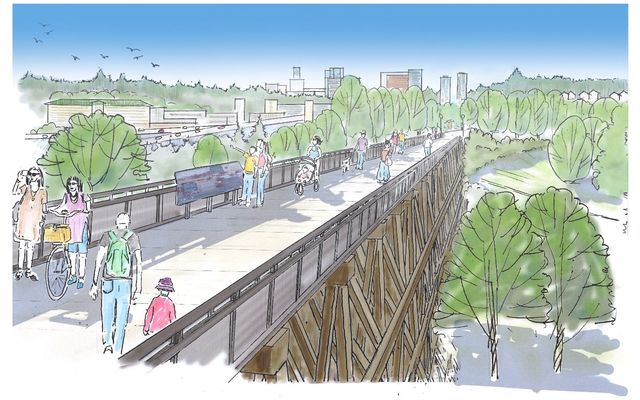 Plus, East Main code amendment discussion and award for domestic violence prosecutor 
On Monday, the City Council received an update on the King County-led Eastrail framework for the Wilburton area. Eastrail is a multi-purpose path along a former railroad grade stretching 42 miles from Renton to Snohomish. Several sections, including portions along the seven miles of trail through Bellevue, are still undeveloped. Recent partnerships, donations and planning efforts are turning trail completion through the Wilburton area in Bellevue into a reality.
The stretch of Eastrail through Bellevue will be the most urban section of the trail corridor. One unique aspect of developing the regional trail section through Wilburton as the business district is also being developed is the opportunity to create a sense of place between the trail, public space and the private access points to buildings and businesses along the trail, making Eastrail an integrated piece of the neighborhood. 
Recent business investments in the project, including $2.5 million from Facebook, Kaiser Permanente and R.E.I. and a $7.5 million grant from Amazon to develop the trail over the historic Wilburton Trestle, have provided funding necessary to complete key segments of the trail in Bellevue. 
In coordination with King County, Bellevue has engaged with the community through a virtual walk, survey and public meetings with several stakeholder groups. The early work revealed that residents want to see amenities, activities, public art and performance space along the trail, as well as trees and vegetation with areas for seating and shade. The city will continue to gather public input and collaborate with business partners and other stakeholders as the county develops the framework plan.
More information and the full presentation are available in the meeting materials. 
East Main Land Use Code Amendment discussion
Also this week, councilmembers continued review and discussion on the East Main Land Use Code Amendment. This code change will establish development standards, requirements and guidelines for future development of the area around the East Main light rail station south of downtown. 
Councilmembers reviewed several topics, including density (floor area ratio or FAR), public amenity options and development agreement items. For FAR, the council discussed options for setting the base FAR and maximum FAR for East Main, which under an incentive zoning program, will allow developers to take advantage of maximum FAR in exchange for providing public amenities. The list of amenity choices includes up to 11 amenities, including affordable housing, open space, public art, child care service, pedestrian bridge and other amenities that contribute to the public good. Amenities are arrayed in two tiers to focus on council-identified priorities and contribute to East Main's livability. Further, councilmembers expressed support for using development agreements to enable departures from certain requirements with delivery of additional public amenities.
  
Councilmembers will continue deliberation on options for FAR, public amenities and development agreement items at a future council meeting. The full discussion is available on Bellevue Television's video replay.
Award aligns with Domestic Violence Action Month
In other business, Bellevue prosecutor Brie Hopkins was recently awarded an Outstanding Service Award from the Washington State Association of Municipal Attorneys. Hopkins was honored for over a decade of work at the local, regional and state level for exemplary work on domestic violence issues. The award announcement to council came on the same day that Mayor Robinson proclaimed October as Domestic Violence Action Month.
"Prosecuting domestic violence requires a different mindset … seeking justice in these cases includes weighing both victim safety and the offender accountability and rehabilitation, and, to be candid, these cases are often very tough to deal with," said Hopkins as she addressed the council. "We're often dealing with some of people's worst moments in their life, but I have found the work to be extremely important and worth dedicating most of my career to handling."
Hopkins handles all of Bellevue's domestic violence cases, roughly 250 cases per year. She also serves on regional and local domestic violence taskforces to develop coordinated community responses to domestic violence, has assisted in developing the annual Domestic Violence Symposium in Seattle and served on a taskforce established by the state Legislature to assess domestic violence issues in the state. 
According to the Domestic Violence Action Month proclamation, one in four women and one in seven men will experience domestic violence in their lifetime. The mayor urged all citizens to support domestic violence prevention efforts and encouraged survivors and concerned citizens to seek help or learn more through the LifeWire helpline at 425-746-1940 or Lifewire.org.