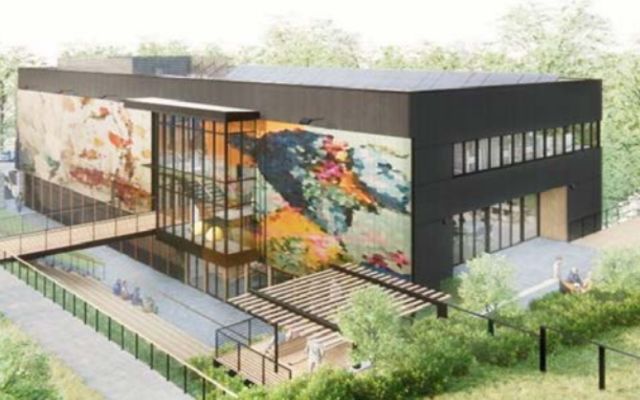 Plus, transportation projects update, support for Best Starts for Kids Levy, and Interim Official Controls enacted
On Monday, the City Council voted unanimously to use $8 million in existing city affordable housing dollars to jointly fund three affordable housing projects in Bellevue. 
The funds requested would support a portion of project cost increases for the Eastside men's shelter, illustration shown at right ($3.6 million) and Eastgate permanent supportive housing ($400,000), both part of the yet-to-be-built Eastgate Master Development housing complex. The request also included shared funding for King County Housing Authority to purchase and retain an affordable housing apartment complex, Illahee Apartments, in BelRed ($4 million.)
Bellevue currently has $12.4 million available for affordable housing and related uses that has not yet been committed to specific projects. These funds are from sources including development fees in lieu of building affordable housing, an affordable housing contingency fund and sales tax revenues targeted for affordable housing, among other sources.
All seven councilmembers voted to fund the two Eastgate Master Development projects. Mayor Lynne Robinson recused herself from the vote on the Illahee Apartments acquisition funds, and all remaining councilmembers voted to approve the funding for that project. Formal legislation to award funding to these projects will occur at a future council meeting. 
Full details for the projects are available in the meeting agenda item. 
Update on transportation projects
Also on Monday, the council reviewed progress on several transportation projects that were recently completed, are under construction or ready to start. The list included both larger projects as part of the city's Transportation Capital Investment Program, and projects funded by the 2016, voter-approved, 20-year Neighborhood Safety, Connectivity and Congestion Levy. Here are some highlights: 
BelRed projects: Large roadway improvements continue in the city's burgeoning BelRed area, made possible by a low-interest, federal TIFIA loan. Sections of Spring Boulevard and 124th Avenue Northeast have been completed and work on new sections and roads in the area are slated to begin in the coming months.  
Pedestrian/bicycle improvements: Significant projects on Southeast Newport Way and West Lake Sammamish Parkway to make the busy roadways safer for people who walk and bike will be completed this year. Also finished were the first section of the Mountains to Sound Greenway Trail in Factoria and the Northeast 12th Street Multipurpose Path downtown. 
Levy projects: Recently completed projects include new sidewalks and crosswalks, mini-roundabouts and bicycle system upgrades such as the 108th Avenue Northeast Complete Streets project. Overall, $22 million has been invested to complete 51 Levy projects, with many more in the pipeline.
Support for Best Starts for Kids levy
Later, councilmembers were presented with further information and a statement in favor of renewing King County Proposition 1, Regular Property Tax Levy for Children, Youth, Families and Communities, also known as the Best Starts for Kids levy. There is currently no campaign against renewal of the levy and no one gave a statement against at the meeting. The proposition will be on the Aug. 3 primary and special election ballot.
The proposition would authorize an additional six-year property tax of $0.19 per $1,000 of assessed property value starting in 2022 with a 3% annual cap on the tax increases over the levy period. The levy funds generated would support the health and wellbeing of children, youth, families and communities through a variety of prevention and development programs. 
Councilmembers unanimously adopted the resolution in support of the levy. The full presentation and pro statement can be viewed through a meeting replay on Bellevue Television. 
Interim Official Controls enacted to align with state law
In other business, the council enacted two Interim Official Controls (IOCs) to timely align city code with recent updates to state law. The IOCs last for six months, giving the city time to develop plans for permanent land use code amendments.
The first IOC, Ordinance No. 6585, responds to Washington State House Bill (HB) 1220, which pertains to allowing various housing types in certain land use districts. HB 1220 was passed in May, and mandates that by July 25, 2021, cities allow permanent supportive housing and transitional housing types in all land use districts where residential dwellings or hotels are allowed. HB 1220 also requires that by Sept. 30, 2021, cities allow indoor emergency shelters and emergency housing in any land use districts where hotels are allowed. 
The second IOC, Ordinance No. 6586, responds to Washington State Senate Bill (SB) 5235, which relates to maximum occupancy for residential dwellings. SB 5235 prohibits cities from limiting occupancy for residential buildings, except for those that are related to health and safety. The bill is effective July 25, 2021. 
Six councilmembers voted to approve the two city ordinances enacting the IOCs. Councilmember Conrad Lee voted "no" on both ordinances. The full discussion is available on Bellevue Television replay and further details of the recently passed state legislation are available in the meeting materials for Ordinance 6585 and Ordinance 6586.