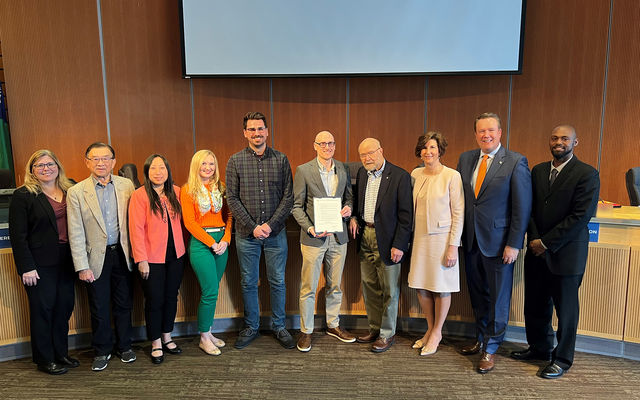 Plus, research into a local controlled substance law and proclamations recognizing police, older Americans, biking and affordable housing
On Monday, the City Council voted unanimously to help fund seven projects that create or preserve more than 800 units of affordable housing on the Eastside through the 2022 Housing Trust Fund and to fund four other projects through Bellevue's Housing Stability Program.  On the same day, the council proclaimed May 7-13 Affordable Housing Week.
A Regional Coalition for Housing (ARCH) recommended a $7.6 million investment for the projects from its 2022 Housing Trust Fund, which is funded by ARCH member cities, including $2.43 million from Bellevue for this funding round. The projects represent a range of housing, including: supportive housing for seniors, veterans and people with disabilities; homeownership housing that will help families build equity; affordable senior independent living; and transit-oriented development adjacent to future light rail, in addition to preserving existing affordable housing.  
ARCH projects in Bellevue include more than 250 affordable units through the Bellevue Homes project and the Spring District 120th Street Affordable Housing Development.  
In addition, ARCH presented funding recommendations for Bellevue's Housing Stability Program, which provides housing for people earning less than 30% of the area median income  and housing services primarily for vulnerable and underserved populations. ARCH recommended $6.8 million for three projects, including Plymouth Crossing, LifeWire's Hope Starts Here and 40 units reserved for individuals with intellectual and developmental disabilities in a 235-unit transit-oriented development in the Spring District. .  
The council is expected to take final action in June on the legislation to fund both programs and more details are available in the meeting agenda. The full housing discussion is available on Bellevue Television replay.  
Proposed ordinance promotes downtown affordable housing construction 
The council held a public hearing on a proposed temporary six-month ordinance to incentivize and promote housing and affordable housing construction downtown. 
The temporary measure allows for higher density and more flexibility for residential development in exchange for affordable housing, and is part of the actions in Bellevue's Affordable Housing Strategy advanced in July as "Next Right Work."   
The council unanimously approved the ordinance. 
Keep Bellevue Beautiful program to help with nuisance graffiti
The council also unanimously approved an amendment to the city's code (Chapter 9.10) defining graffiti on private property as a nuisance and requiring its removal. 
The proposal is part of the new Keep Bellevue Beautiful program included in the 2023-2024 budget. The program will include community education and resources for assistance with graffiti removal. Councilmembers will receive another update in the first quarter of 2024 regarding the ordinance.  
Staff researching ordinance regarding controlled substances
In other business, councilmembers voted to allow city staff more than eight hours to conduct research and provide the council with potential options to create a local ordinance that would make it a crime to knowingly possess or publicly use counterfeit or controlled substances (except cannabis.)  
Provisions of a state law making known possession of a controlled substance a crime will expire on July 1. If the state Legislature does not pass legislation in a special session making possession of these substances unlawful, the Bellevue council could adopt a local ordinance prohibiting public use and possession of these substances. More information is in the meeting materials. 
Proclamations in recognition of police, older Americans and biking
Many community members joined the council  for the reading of proclamations in recognition of Police Week, Older Americans Month and Bike Everywhere Month.