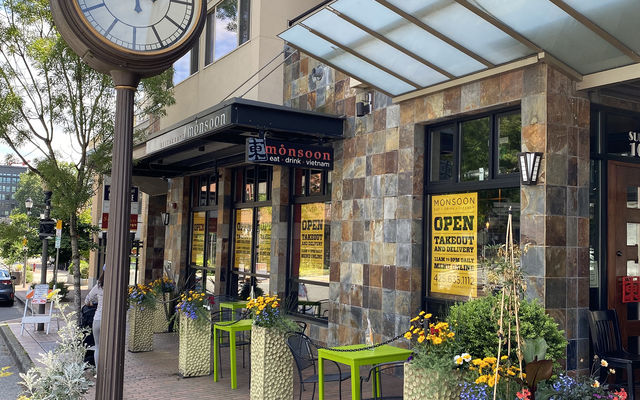 April 8 webinar will introduce program
With a return to full-capacity, indoor dining still to come, the City of Bellevue and its partners are helping restaurants explore outdoor dining options this summer, with marketing assistance, one-on-one restaurant advising and financial help.
Restaurant owners can learn more about the program at a free webinar on Thursday, April 8, 9-10:30 a.m. City staff will walk participants through the city's outdoor dining application process and introduce the resources available. Please register to receive the link to the virtual event. 
"Last year, we heard loud and clear that residents and businesses enjoyed having more outdoor options," said Jesse Canedo, chief economic development officer. "This year, as we move toward a new normal, expanding outdoor spaces across the city is a key part of our efforts to welcome more residents, visitors and workers back to Bellevue."
Last summer, the city permitted outdoor dining on Main Street in Old Bellevue, and it was well-received, with more than 84% of residents in a survey saying the al fresco option played a significant role in their decision to dine out in that neighborhood. Five restaurants deployed on-street patio spaces, supported by technical assistance from the Bellevue Downtown Association and sponsorship support from Microsoft.
Although vaccinations are changing the arithmetic, some restrictions on indoor dining are likely to continue for some time. More restaurants all over Bellevue may be interested in adapting their operations to align public health requirements with business needs. Additionally, as people begin to return downtown and to other business districts, outdoor dining can add a new, exciting experience for residents and visitors alike.
The city is working again with the Bellevue Downtown Association and others to support local businesses in creating new outdoor spaces of all kinds – on the sidewalk, on the street, in parking lots and on private property. Services include:
marketing assistance from the BDA
free, one-on-one restaurant advising from Business Impact Northwest
federal grants from the Restaurant Revitalization Fund
More information about the city program is available at Outdoor Dining. 
Published on 04/05/2021