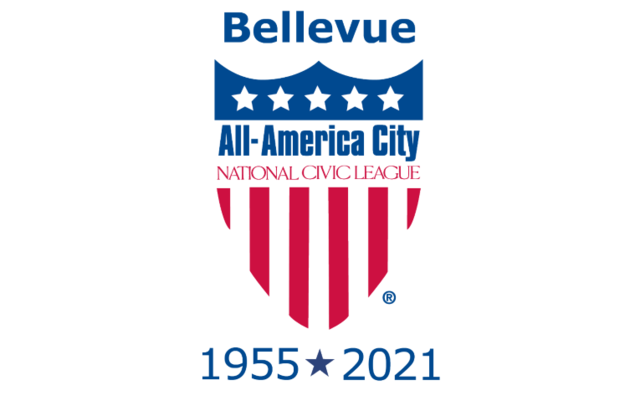 Bellevue last received this national award recognizing community engagement in 1955
Bellevue was among 20 cities nationwide picked as finalists for the All-America City Award, and this week was announced with nine other city finalists as a winner of the distinction of All-America City 2021. The National Civic League bestows the award annually to cities that leverage engagement to build equitable, thriving communities. Bellevue received the award once before, in 1955. 
"We are honored to receive this award on behalf of a city that addresses community needs together, with resilience and equity even in the midst of new and unprecedented challenges," said Mayor Lynne Robinson. "Many of the programs highlighted in our award application were made possible by passionate community partners who share a mutual commitment to the wellbeing and success of all people in Bellevue."
"The All-America City honor is a testament to the hard work city staff does every day to make Bellevue such a desirable place to live, work and visit," said City Manager Brad Miyake. "I also want to thank the community for their support during these challenging times."  
The 2021 award theme was "Building Equitable and Resilient Communities." Bellevue's application detailed some of the city's many strategic initiatives to become a more equitable community and meet the profound needs during the pandemic, including the city's Diversity Advantage Initiative and partnerships with Jubilee REACH in their Groceries for Families program and the Bellevue Rotary Club to fund and build the accessible Inspiration Playground in Downtown Park. 
"Bellevue came together to become a more just and equitable community," the National Civic League said in a statement. "Bellevue's development of an accessible playground for children of all abilities, commitment to cultural competency and ability to meet residents' needs during the pandemic are just a few of the reasons it is an All-America City."
The All-America City winners were announced this week at the award's national conference, a virtual event where all 20 finalists presented their successes to a judging panel. The nine cities, in addition to Bellevue, that took home the All-America City award were: Carlisle, Pa.; El Paso, Texas; Evanston, Ill.; Fort Wayne, Ind.; Kansas City, Mo.; Livermore, Calif.; Miramar, Fla.; Morrisville, N.C.; and Wheat Ridge, Colo.
The National Civic League has honored 500 cities with the All-America City Award since 1949. Their website highlights Bellevue as a 2021 All-America City award winner and includes information on several of their other civic engagement programs.