Published November 2 2018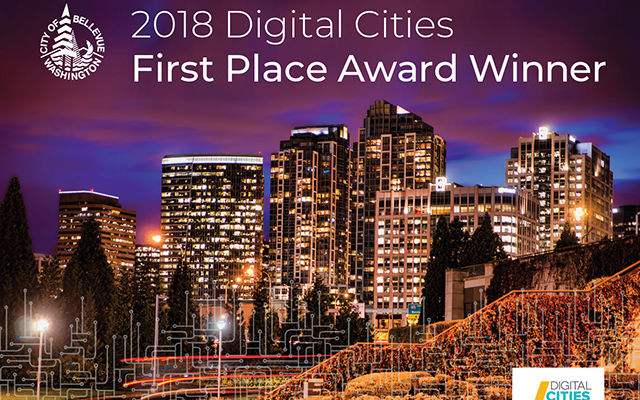 The City of Bellevue took first place in the 2018 Digital Cities Survey after launching technology innovations this year that included a "smart city" dashboard for tracking performance, predictive analytics to prevent pipe failures and transmission of patient information to hospitals from ambulances.
The city topped its fourth-place finish last year in the 125,000-249,999 population category. The survey, issued by the Center for Digital Government, is open to all U.S. cities, with questions focused on the top characteristics of a "digital City." They cover mobility, engagement, collaboration, connection, efficiency and innovation.
"The first-place recognition by the Digital Cities Survey is the culmination of a lot of hard work," City Manager Brad Miyake said. "It also showcases the collaborative technology efforts across the city and region that have resulted in better, more efficient services for residents and businesses."
In its application, Bellevue highlighted collaboration across the city to develop a technology strategic plan that aligns technology priorities and investment with City Council and business priorities. The city also made noteworthy progress on a Smart Cities Plan focusing on improving livability, sustainability and resiliency.
Chief Information Officer Sabra Schneider noted that Information Technology staff partner closely with staff in other departments to ensure technology solutions address business needs and enhance Bellevue's future focus.
Additional digital growth areas for the city this year include:
Increased outreach through Instagram, YouTube and Nextdoor, including original video content across platforms.
Development of a Smart Mobility Plan that emphasizes public-private partnerships and lays the groundwork for autonomous vehicle exploration.
Interactive story maps to support citywide policy conversations.
A new "permit fee estimator" for people considering remodels or other projects.
An improved web platform for city codes that tracks changes.
A major upgrade for the search engine on the city website BellevueWA.gov.
The Digital Survey is now in its 18th year, with award winners to be honored at a ceremony at the National League of Cities annual conference in Los Angeles on Thursday, Nov. 8. Additional information, including a list of this year's winners, is available at the Center for Digital Government.