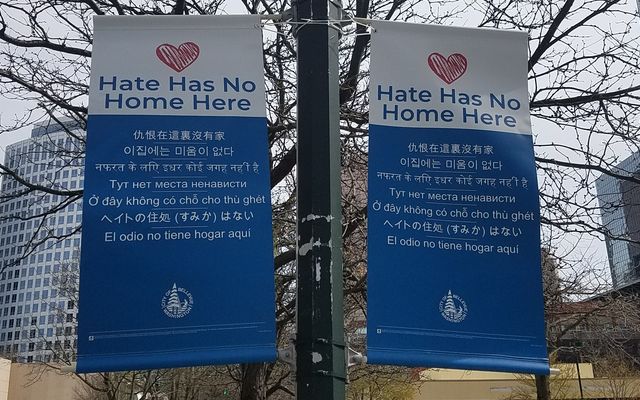 "Hate Has No Home Here" campaign offers resources to create community, combat discrimination
Advancing its ongoing commitment to diversity and fostering an inclusive community, the City of Bellevue has launched a campaign to involve community members in spreading awareness and solidarity and encourage reporting of hate and bias incidents. The initiative – "Hate Has No Home Here" – is part of the city's coordinated response to a recent national spike in hate crimes against Asian and Pacific Islander communities. 
"No one in Bellevue should feel unsafe or experience the trauma of hate, discrimination or bias," said Mayor Lynne Robinson. "We are fortunate to all be a part of such a diverse community where neighbors care and support each other. I strongly encourage residents to show their support and report any targeted hate incidents. Let us be clear: hate has no home here." 
The city is offering Hate Has No Home Here resources, including signs and stickers residents and businesses can use to take a public-facing stand against hate. The materials are being distributed at designated pick-up locations listed on the web page until supplies are gone. The website also has downloadable materials to produce signs and posters from home. In addition, community members can find instructions for participating in a crowd-sourced community video message that will be produced by the City of Bellevue.
The site includes culturally specific resources for the Asian and Pacific Islander community and other communities of Black, Indigenous and people of color directly impacted by hate and bias. Resources are also available for community members who may witness hate incidents or experience the effects of hate in their lives or workplace.
The city encourages residents to report all hate crimes and bias related incidents. If a situation feels dangerous or the crime is ongoing, residents are asked to call 911. Bias-related incidents can also be reported through an online crime reporting tool or by calling the police non-emergency number at 425-577-5656. The Hate Has No Home Here resource page also offers additional ways to report specific hate incidents.
 
Published on 04/05/2021