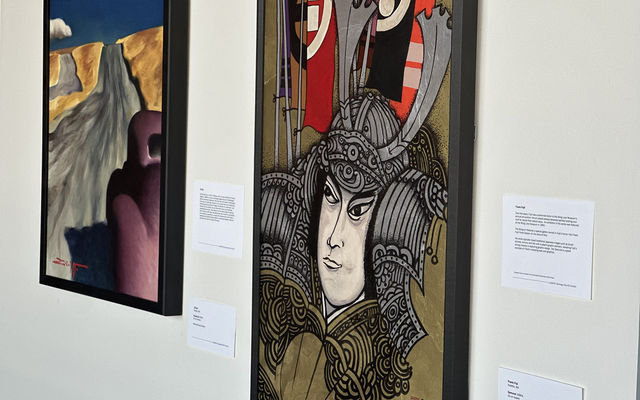 In recognition of Asian American, Native Hawaiian and Pacific Islander Heritage Month, the City of Bellevue is hosting two free exhibits in May, one showcasing diverse artworks from a variety of AANHPI artists and another highlighting the role of Chinese immigrants in the history of the first transcontinental railroad. The city will also host a virtual performance of "Never Again: The story of Japanese American incarceration." 
To kick off AANHPI Heritage Month and the exhibits, the city held a reception Tuesday, May 2, at City Hall, with remarks from city leaders and light refreshments. 
The AANHPI art exhibit, a philanthropic collaboration with MG2 Foundation's executive director, Jerry Quinn Lee, will feature more than a dozen multimedia pieces centering on the voices and experiences of the AANHPI community. The cross-cultural collection is open to the public at no cost in the first- and second-floor concourses at City Hall May 1-26 (event flyer).
The city will also honor the contributions of Chinese railroad workers through a partnership with the Chinese American Civic Association. The exhibit, "Applaud to the Chinese Transcontinental Railroad Workers," features 60 bilingual educational panels depicting how an estimated 15,000 to 20,000 Chinese immigrants built the most challenging part of America's first transcontinental railroad in the 1860s.
The panels, lent to the city by the Chinese American Civic Association, will be on display in the first-floor concourse at City Hall May 15-June 2. The CACA supports Chinese Americans in a variety of ways.
Recognition of AANHPI Heritage Month will also include a proclamation read at the May 1 City Council meeting.
For "Never Again," the city, in partnership with Dukesbay Productions, will feature a collection of first-person stories of people who were forced into internment camps during World War II. Actors will help bring this powerful and important history to life on Tuesday, May 23 at 6 p.m. (event flyer). Registration is required.
For alternate formats, interpreters, or reasonable accommodation requests please phone at least 48 hours in advance 425-452-7881 (voice) or email diversity@bellevuewa.gov. For complaints regarding accommodations, contact the city's ADA/Title VI administrator at 425-452-6168 (voice). If you are deaf or hard of hearing dial 711.