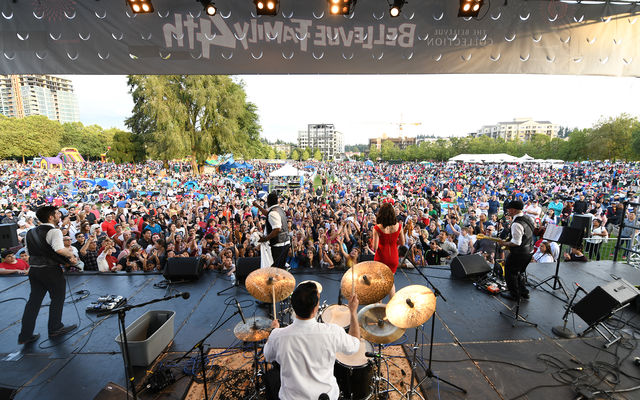 The Eastside's largest Fourth of July celebration at Bellevue Downtown Park will not take place this year due to the COVID-19 pandemic and Governor Inslee's "Stay Home, Stay Healthy" order extension, combined with the Safe Start Washington phased plan for eventually allowing public gatherings over 50 people. 
The Bellevue Family 4th typically brings together up to 60,000 visitors to Downtown Park and surrounding areas with a day of entertainment and food culminating in a fireworks show set to a live performance by the Bellevue Youth Symphony Orchestra.
Event organizers from the City of Bellevue and Bellevue Downtown Association (BDA) explored a range of intermediate and smaller-scale options for presenting the event. Similar to July 4 event decisions across the region, they agreed the alternatives for a public celebration would still invite large gatherings to occur.
"Safety is paramount, especially now as we try to bounce back from this pandemic," said Bellevue Downtown Association President Patrick Bannon. "We're grateful for such strong sponsor and community support, and we'll plan to celebrate Independence Day in a big way next summer."
The City of Bellevue and Bellevue Downtown Association have co-produced the Bellevue Family 4th for the past 28 years.