Bellevue Youth Link is a youth leadership and community service program cosponsored by the city and Bellevue School District. Since 1990, Youth Link has been giving youth in our community a voice and opportunity to create change. There are many ways to get involved!
The Bellevue Youth Council is a membership body of Youth Link that helps promote various youth programs, provides leadership roles and run community service projects through Action Teams. Youth also have the opportunity to lead and plan Youth Link's special events throughout the year. The Bellevue Youth Council meets the first and third Wednesday of every month.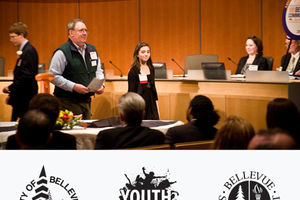 2023 Youth Involvement Conference
Date/Time: Saturday, April 22, 9 a.m.-3:30 p.m.
Location: City Hall
Registration and workshop confirmation will be emailed.  Registration closes on Monday, April 17, 2023.
BYC 2021-2022 Action Teams 
Diversity Action Team
Youth Climate Action Team
Kids Care Coat Drive
Leader's Now    
Virtual Homework Helpers
COVID-19 Support Action Team

Youth Link Special Events
Youth Involvement Conference
Community Leadership Awards