Bellevue offers a variety of standard PDF maps, downloadable spatial data and interactive web mapping applications. Explore common city data layers using the Bellevue Map Viewer below or visit the full Map Gallery for focused, interactive web maps of city projects, plans and other city initiatives.
Please contact the Geospatial Technology Services (GTS) team with any questions, comments or suggestions about our map offerings.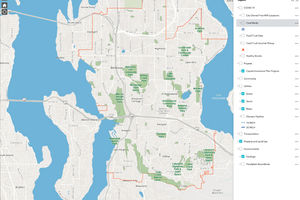 Bellevue Map Viewer
Bellevue Map Viewer is an interactive map that allows the Bellevue community to access a variety of map layers such as parks and trails, capital projects, property information, utilities infrastructure and more. The app has a variety of tools for tasks such as creating a printable PDF map, making measurements or adding your own data and markup.
This viewer is mobile-friendly, so feel free to use it on your phone or tablet, although some features work better on a larger device.
Click here for a short video instruction to help you get started using the app.