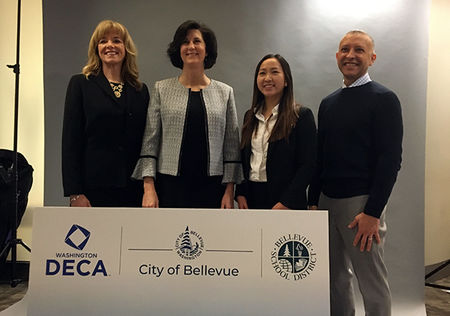 Leaders with the City of Bellevue, Bellevue School District and Washington DECA today announced a new partnership to raise awareness about distracted driving among teenagers and reduce collisions caused by it.
The campaign is called Tune In/Not Out, or TINO, and is intended as an outreach effort by students, for students that will bring together high schoolers, families, the music community and others. Organizers intend to launch the campaign in October.
Officials with the three organizations announced the effort on Wednesday, Feb. 13 during a city-organized Vision Zero Summit at Overlake Medical Center. Vision Zero is the city's ambitious effort to eliminate traffic deaths and serious injuries on Bellevue streets by 2030. The Summit brought together traffic safety experts from as far away as Washington D.C., part of an effort to create a blueprint for achieving Bellevue's Vision Zero goal.
The TINO partnership will address a critical issue. Crashes are the leading cause of teenage deaths in the nation. In Bellevue, one in four drivers involved in a fatal or serious-injury collision is under 25 years old, though young people of driving age, 16-25 years old, make up only 10.6 percent of Bellevue's population. Overall, on average, someone is killed or seriously injured every 17 days on Bellevue streets; nationwide in 2017, more than 37,000 people were killed in motor vehicle crashes.
Plans call for Washington DECA students to: develop and administer surveys to gauge the attitudes and behavior of their peers; hold a series of pop-up concerts at district high schools; collect testimonials from victims, friends and families; and use social media to engage other students.
The city's role, after bringing the three organizations together, will be to provide communications support for the TINO campaign and to help analyze its impact. The school district will help promote and coordinate campus events.
Quotes
John Chelminiak, Bellevue mayor: "We're very pleased the City of Bellevue was able to bring these organizations together for an important campaign aimed at saving lives. The TINO partnership is a wonderful example of the kind of collaboration it will take to realize our Vision Zero goal of eliminating traffic fatalities and serious-injury collisions in Bellevue by 2030. We're grateful to our partners and look forward to working with them."
Lynne Robinson, Bellevue deputy mayor: "It's an honor to announce the TINO partnership at the city's Vision Zero Summit. This is the type of innovation that will help us reach our Vision Zero goal. Whether you're a visitor, resident, worker or student, we like to think Bellevue is the place you want to be – and where you can travel safely."
Tom DeBord, Overlake Medical Center chief operating officer: "As health care professionals, we experience daily the physical and emotional toll traffic collisions take on people. We're proud to host the Vision Zero Summit at Overlake Medical Center and we strongly support the TINO campaign to raise awareness about teenage distracted driving while lowering the number of crash victims brought to our emergency room."
Ivan Duran, Bellevue School District superintendent: "With thousands of students driving to and from school daily, and thousands more along as passengers, the Bellevue School District has an obvious interest in reducing distracted driving. We look forward to working with Washington DECA and the city to educate younger drivers about this critical issue where they learn and socialize."
Lori Hairston, Washington DECA executive director: "Washington DECA came up with the idea for the TINO concept and we're excited to pilot it in the Bellevue School District. A distracted driving awareness campaign by students, for students makes sense and fits well with DECA's mission. If successful in Bellevue, TINO could become a model for state, or even national efforts."
Olivia Sun, Interlake High School student and DECA officer: "As a junior in high school, it's clear to me that distracted driving is a huge issue, especially among teens my age. TINO is a terrific opportunity for DECA students to apply marketing and communications skills in a way that fosters a safer community. I'm excited to launch the TINO campaign with Washington DECA, the school district and the City of Bellevue."
Published on 02/13/2019