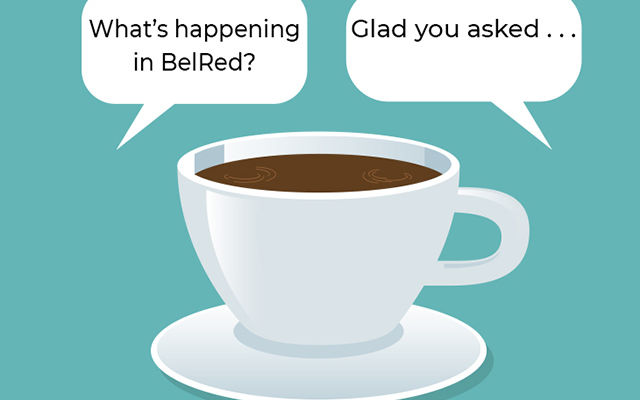 The BelRed area is changing rapidly, and it's not just East Link light rail construction. To help residents and others keep track, the city is hosting "BelRed Transformation: Coffee and Conversation."
The informative event will take place Tuesday, March 26, 7:30-9:30 a.m. at the Global Innovation Exchange building, 12280 NE District Way in the Spring District, Bellevue's newest neighborhood.
Attendees are encouraged to register beforehand at AccessBellevue.eventbrite.com by 5 p.m. Friday, March 22.
On hand will be city staff from the Transportation, Community Development and Development Services departments, as well as representatives from Sound Transit, the state Department of Transportation, King County Parks and Choose Your Way Bellevue, which provides commute services to residents, employees and employers.
Attendees can interact with experts on a variety of topics:
Transportation: In addition to East Link, improvements are being made to Northeast Spring Boulevard, 124th and 130th avenues northeast; the Eastside Rail Corridor trail; and the SR 520/124th Avenue Northeast interchange.

Community planning: Projects include BelRed Look Back, the BelRed arts district, 130th Avenue Northeast public art, the Neighborhood Enhancement Program, the Grand Connection and the Wilburton commercial area study.

Business resources: Includes the city's economic development program, Small Business Development Center, Startup 425 and Sound Transit's Business Relations Program.

Spring District walking tour: Staff from the city, Sound Transit and developer Wright Runstad will lead two walking tours of the Spring District, beginning at 9:30 and 10 a.m.
Free, but limited parking is available; the garage entrance is on the east side of the GIX building. A transit option is via Metro's RapidRide B line, with a bus stop at Northeast Eighth Street and 124th Avenue Northeast. Another alternative is to rent an electric-assist Lime bike; download the app at li.me.
More information on the BelRed area and its evolution is available at BellevueWA.gov/accessbellevue.
Published on 03/05/2019