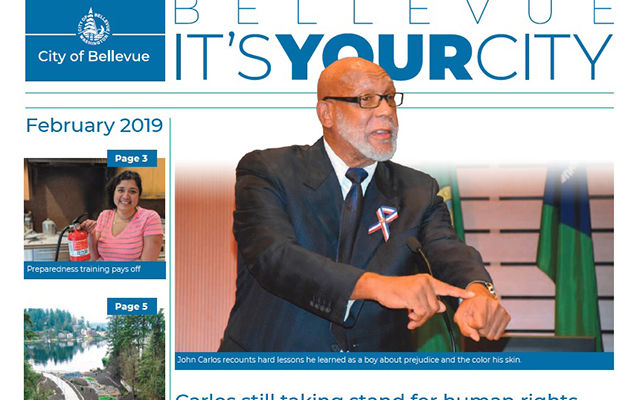 In the 1968 Olympics, U.S. track stars John Carlos and Tommie Smith bowed their heads and raised gloved fists while they stood on the medals podium, sending a message worldwide. Fifty years later, Carlos is still taking a stand against injustice.
"I have to stand up for something before I leave here," Carlos told an overflow crowd in City Hall during a Martin Luther King Jr. Day event on Jan. 17. Carlos' visit is on the front page of the February issue of It's Your City, which is going to Bellevue homes and businesses this week.
Also covered in the newsletter:
Preparedness training helps woman extinguish stove fire before serious damage
Budget supports sustainability, Grand Connection
Meydenbauer Bay Park photo gallery
Neighborhood Leadership Gathering to focus on trees
During his January visit, Carlos encouraged the audience to fight for justice in their lives too, even if they don't have an international stage. "You can do it right here in Bellevue," he urged the audience. "You can't say, 'It's not my job.' It's everyone's job."
Indeed, the City of Bellevue has been pursuing a Diversity Advantage initiative over the last five years, working on several fronts to ensure all residents receive equitable services. "The city hosts speakers such as John Carlos to help staff and residents reflect on our collective purpose and how that informs the way we navigate the world," said diversity and inclusion administrator Elaine Acacio.
Carlos, 73, was a counselor, in-school suspension supervisor and track coach at Palm Springs High School in Los Angeles for 25 years, but the image of him raising his fist is how millions know him. It doesn't seem to bother him if people think of him as a "troublemaker."
Martin Luther King Jr., Mahatma Gandhi, Rosa Parks and Jesus Christ were all given that label, he noted. "I'm in good company," he said."
Before the Olympics, Carlos met the Rev. King in New York, shortly before King's assassination. The young runner, just a college student at the time, was a little in awe. King expressed support for a boycott. Carlos said King equated it to Carlos throwing a rock from a boat into a still lake, sending ripples far and wide, telling people around the world, in a peaceful way, that something was amiss.
Carlos couldn't speak from the podium in Mexico City about what moved him to raise his fist, but in his presentation in Bellevue, the entertaining storyteller recounted growing up in Harlem, seeing and experiencing discrimination. Traveling with the Olympic team, he also saw injustice throughout the world.
He and other Olympic athletes formed the Olympic Project for Human Rights, and they were considering boycotting the 1968 Olympics in Mexico City altogether. Ultimately, the Olympics team backed away from a boycott, but Carlos and Smith were still inspired to make a statement. Australian silver medalist Peter Norman wore an OPHR badge on the podium in support.
"Before there's a fist, there's five fingers," Carlos told the audience at the end of his speech. "Each of the fingers can be a different ethnic group. The five of them realize, 'If we come together, we become a very powerful force.'
"That was the essence of the fist – unification, unity, to be one on a mission to make something better," Carlos concluded. The audience gave him a standing ovation.
Learn more about Bellevue's Diversity Advantage program. It's Your City is published three times a year, in February, June and October.
Published on 02/25/2019